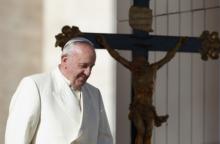 No doubt about it, Pope Francis is generating the kind of Internet buzz and sky-high Q Scores that brand managers can only dream of. But is the pontiff becoming a victim of his own good press?
The Vatican once again had to dispel media reports that went well beyond what Francis actually said, as his spokesman formally denied that the pope had signaled an openness to same-sex unions in a recently published conversation with leaders of religious orders.
During the November discussion with leaders of the Jesuits, Franciscans and others, Francis said they needed to engage "complex" situations of modern life, such as the prevalence of broken homes and the growth in gay couples rearing children.