Kaya Oakes is the author of four books, most recently including The Nones Are Alright (Orbis Books, 2015). She teaches writing at UC Berkeley and lives in her home town of Oakland, California.
Posts By This Author
Do We Really Want Our Government Run Like a Business?
04-25-2017
It's been a catchphrase in Christian circles for decades, but young Christians aren't convinced.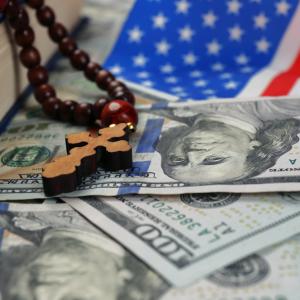 I interviewed a dozen Christian millennials from different denominational backgrounds about these questions, and found that most of them disagree with the idea that government should be borrowing ideas from business in terms of how it operates.
Does Catholicism Have a 'Man Crisis,' or is Cardinal Burke Paranoid?
01-08-2015
In an online interview this week, Cardinal Raymond Burke said the "radical feminism which has assaulted the Church and society since the 1960s has left men very marginalized."
But many women will head to Mass this weekend and note that the priest, bishop, and pope have something in common: They are all men, and the power they hold in institutional church structures hardly looks like marginalization.
In spite of Burke's paranoid opinion that "rampant liturgical experimentation" resulted in men who were "really turned off" by the Mass, women will stand and recite a recently revised Nicene Creed that states that Christ died "for us men." They will pray to a God referred to only by male pronouns even as God's gender remains stubbornly mysterious. Even the language of the liturgy negates the presence of women.
Yet Burke is bewildered by women's "self-focused attitudes" and "constant and insistent demanding of rights." Women, he said, "respond very naturally to the invitation to be active in the Church." And yet, when the sanctuary becomes "full of women," and the parish activities and liturgy are influenced by them, these become "so feminine in many places that men do not want to get involved."
The fact that Burke gave this interview to a website whose very name — The New Emangelization — may lead many to question whether it is actually a parody, indicates the level of absurdity in Burke's claims that women have somehow taken over the Catholic Church.
There is also something disturbing and insulting about his ideas concerning the men already in the church.