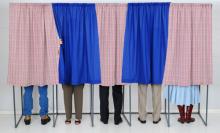 In a few weeks citizens will choose who serves as president of the United States. As many from all sides of the political spectrum have already recognized, the nationwide decision of Nov. 6 will affect the direction of 50 states – as well as the international community – for generations to come.  
Since the opposing candidates offer contrasting views for the future, the choice is indeed critical, thus all are encouraged to listen openly and attentively, critique the various policy positions carefully, and when the first Tuesday of November arrives, make an informed choice for the collective benefit of our global common good. 
While one should affirm and appreciate the importance of Election Day, we should also recognize and appreciate our ability to shape society far more frequently than once every four years. While several years pass between presidential elections, we vote for the collective benefit of our global common good on numerous occasions with each passing day.