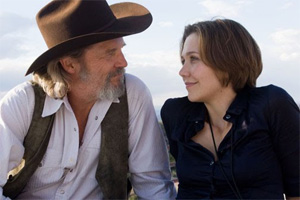 We love a redemption story.
The profound appeal of rags-to-riches-to-rags-to-riches or the fall-from-grace-followed-by-a-spectacular-comeback is about as ingrained in our American psyche (and soul) as rooting for the underdog, generosity to those in distress, and second chances.
When I walked into the movie theater earlier this week for an 11 a.m. show of the new film "Crazy Heart," I was expecting to love it. I am a diehard Jeff Bridges fan (he is the Dude, after all) and almost as big a fan of T Bone Burnett, who wrote the original music for the film.
What I wasn't anticipating was being deeply moved spiritually -- transformed by it, in some small way, really.
As I sat through the previews in the darkened, almost empty theater, I did something I haven't done before in that kind of a venue: I prayed.
For whatever reason, I felt led to talk to God before the film started. "Help me to see what you want me to see in this movie," I prayed. "Let me be open and awake to your truth in it. Allow it to change me."
"Crazy Heart" is an extraordinarily beautiful film about real redemption. Bridges, who plays the protagonist Bad Blake, gives the performance of his already august career, and Maggie Gyllenhaal, playing Jean Craddock, a fledgling journalist and Blake's love interest, is so good and true and believable that she more than once moved me to tears.
Bad Blake is a down-on-his-luck country singer who lives on the margins, basking in the last vestiges of the light of tremendous success he enjoyed some years earlier, before alcoholism and despair all but snuffed it out.
Despite the nickname he embraces with a swagger, Blake is not a bad man. He is weak and ill, floundering in the hell he has created for himself with one unfortunate decision after another and the albatross of addiction.
Blake has redeeming qualities. He is a remarkably talented musician. He tells true stories of pain and loss. And he possesses a yearning for and ability to love ardently.
He is not a lost cause, even if he doesn't believe that about himself much of the time.
When he opens his heart to love and be loved, he is transformed, though not without once again stumbling over his own weakness and selfishness.
Blake is on his last legs, but he's not out of chances.
He just needs to make enough room in his topsy-turvy world for them to happen.
As I watched the film and listened to the glorious music (Bridges has a beautiful voice, as does Colin Farrell, who plays Tommy Sweet, a country superstar who was mentored by Blake and owes him a debt for his mega-success), the big story behind (or above) the plot began to come into focus.
While God is not a character listed in the credits, I believe the film is told through God's gracious, and sometimes mournful, eyes.
Blake is loved and cherished, beautifully and wonderfully made -- a creator in the image of the Creator.
But he keeps getting in his own way, repeatedly screwing up, failing, and disappointing himself and those who care for him most.
He hits bottom and rises.
Still, in the midst of true redemption, not all is set right. There is no magic pill, no secret password to undoing all he's done. He has to live with the consequences of his mistakes. But he lives. And there is hope for beauty and love in his future.
A magnificent, heartbreaking song emerges from the pain and destruction. It's called "The Weary Kind," and serves as the musical theme for the film.
It says, in part:
Your body aches