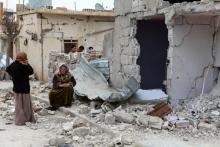 What's happening in Syria is awful. You see the pictures and your heart breaks. It's horrific. Lakhdar Brahimi, U.N. special envoy to Syria, said Wednesday that, "With what has happened on the 21st of August last week, it does seem that some kind of substance was used that killed a lot of people: hundreds, definitely more than a hundred, some people say 300, some people say 600, maybe 1,000, maybe more than 1,000."
The Huffington Post has a slider with the title, Syria War In August (Warning: Graphic Images). Of course, every life matters, but as a father with three young children, seeing the picture of a Syrian man crying out in pain as he carries the body of a young girl – words fail.
Violence and Justice
My wife knows that we promote nonviolence at the Raven Foundation, and that I lean toward pacifism. Wednesday night, as we discussed Syria and Bashar al-Assad's continued threats of violence, she asked me, "Well, what do we do if a government uses chemical weapons against its own people?"
The question haunts me. These are times that try the soul of anyone committed to nonviolence. We all want justice. We all want the violence to stop. We don't want any more people to cry in pain as they carry the body of a lifeless child.
And so President Barack Obama seems to be ramping up the war machine. Ironically, as he plans for possible military strikes, on Wednesday he delivered a talk honoring the 50th anniversary of Martin Luther King Jr.'s speech "I Have a Dream." As we hear the drum beat of war, we are reminded of King's dream of justice. In his speech King said:
We must not be guilty of wrongful deeds. Let us not seek to satisfy our thirst for freedom by drinking from the cup of bitterness and hatred. … We must not allow our creative protest to degenerate into physical violence. Again and again, we must rise to the majestic heights of meeting physical force with soul force. … [We] will not be satisfied until justice rolls down like water and righteousness like a mighty stream.
Our popular understanding of "justice" is mired with violence. For King, true justice was always based on love and nonviolence, because violence always carries with it a fatal flaw. As he wrote in his book Strength to Love, "Violence brings only temporary victories; violence, by creating many more social problems than it solves, never brings permanent peace" (18).