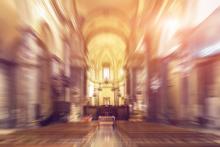 While reflecting upon and celebrating Easter, I did quite a bit of thinking about the controversies surrounding so-called "religious freedom" bills that have been popping up recently, most notably Indiana and Arkansas. In a recent interview on the Family Research Council radio program, " Washington Watch with Tony Perkins," former Arkansas Governor Mike Huckabee discussed the backlash against these two pieces of legislation.
Huckabee asserted that gay-rights activists are seeking the eradication of Christian churches. According to Huckabee, "It won't stop until there are no more churches, until there are no more people who are spreading the Gospel."
Christianity has been and continues to be the dominant form of religious practice and expression in America. Often the rhetoric used by members of dominant groups insinuates that when people outside of their dominant group ask for equal rights and the opportunity to participate fully in American life, they are actually seeking to eradicate the existence of that dominant group.