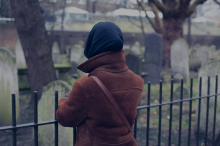 We have nurtured an enemy mentality that pits us against the world — even as we justify it by claiming to be a force for protection of the world. And the violence we export abroad is taking its toll on us. It's been taking its toll on us for a long, long time — eroding our souls with every weapon made, let alone used, to destroy another child of God half a world away or right next door. How could a nation that spends more money than any other in the world on the military not be infected by a culture of violence? How can we spend billions on bombs and guns and drones and missiles while neglecting the necessary funds for education and housing and healthcare, and yet claim to respect life? How can our leaders instruct us to kill abroad and be surprised when we find no other way to handle our problems here at home? How can we demand respect for human dignity while we continually glorify violence that tears human beings apart? How can we respect life while waging death?
We live in a deadly world, and we keep making it deadlier. So we are afraid, and we cling to our guns, and when someone poisoned by the idolatry of violence fires one of those guns, fearful people cling ever more tightly to their guns. When our own government clings to its nuclear arsenal in the name of "deterrence," how can we expect anything less of citizens?
As long as we live in fear and glorify violence, we can't be surprised that efforts for gun control go nowhere. Of course we need gun control, but we also need to control our addiction to the myth that peace can be waged through violence. I can't think of any myth that has so thoroughly duped humanity as the satanic lie that peace can be bought from sacrifice — from murder and war. The notion of a war to end all wars, a permanent peace arising from the rubble of destruction and death, is so demonstrably false. The house divided against itself is our own world, and we cannot stand like this. Will we keep hurtling ourselves headfirst toward our own destruction, putting our faith in instruments of death?