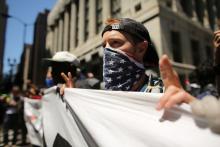 This coming fiscal year, the United States is set to spend more than $640 billion dollars on the Pentagon and war, accounting for more than 60 percent of federal domestic spending. In excess of $85 billion of that will be spent on the war in Afghanistan alone.

This unfathomable amount of money was approved by the House of Representatives in the National Defense Authorization Act. These funds will serve to bring suffering and pain to innocent people, further militarize the world and undermine peace and stability for generations to come—all on the backs of those who struggle at home.

In the backdrop of such spending, we're told that we're in a financial crisis. Elected officials tell us it is time to make tough choices. There isn't enough money for programs like "Meals on Wheels" and for ensuring everyone has access to adequate healthcare. Our schools and bridges must wait to be repaired.  New roads and schools must remain unconstructed.

Yet some of us know better.
CLICK HERE TO HELP PROTECT POVERTY PROGRAMS FROM FEDERAL BUDGET CUTS (and get an "End Poverty" or "Wage Peace" bumper sticker.)