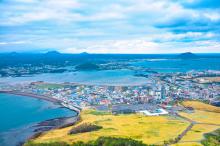 Jeju Island, South Korea — For the past two weeks, I've been in the Republic of Korea (ROK), as a guest of peace activists living in Gangjeong Village on ROK's Jeju Island. Gangjeong is one of the ROK's smallest villages, yet activists here, in their struggle against the construction of a massive naval base, have inspired people around the world.  
Since 2007, activists have risked arrests, imprisonment, heavy fines, and wildly excessive use of police force to resist the desecration caused as mega-corporations like Samsung and Daelim build a base to accommodate U.S. nuclear-powered aircraft carriers and submarines for their missions throughout Asia. The base fits the regional needs of the U.S. for a maritime military outpost that would enable it to continue developing its Asia Pivot strategy, gradually building towards and in the process provoking superpower conflict with China.  

"We don't need this base," says Bishop Kang, a Catholic prelate who vigorously supports the opposition.