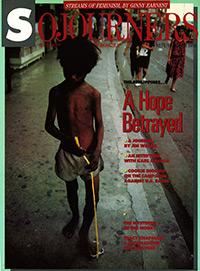 Magazine
Sojourners Magazine: October 1988
Subscribe to Sojourners for as little as $3.95!
Feature
An interview with Karl Gaspar
An interview with Cookie Diokno.
Building on the History and Achievements of Feminism.
Columns
If we destroy our air, or our water, or the whales, we have no one to blame but ourselves.
In early July, 290 people aboard a regularly scheduled Iranian airliner were killed because a top-of-the-line U.S. Navy cruiser was unable to identify it correctly.
All of us remember the dramatic events that occurred in the Philippines in February 1986.
Let us, the American people, see the long-hidden facts behind the Iran-contra scandal and our country's long-secret foreign policy.
Culture Watch
The world is still facing a major problem with women's equality.
Perhaps the last thing anyone would have expected to happen during the Reagan era was a renewal of interest in the idea of legalizing drugs.