POLITICAL SCIENTIST Gene Sharp, in his seminal trilogy The Politics of Nonviolent Action, listed 198 methods of nonviolence, from protest and persuasion to noncooperation and nonviolent intervention. The people we profile in Sojourners, and the stories we highlight, often exemplify these various methods, and this issue is no exception. Guatemalan poet, theologian, and peace activist Julia Esquivel used the power of transformative words to confront, demystify, and, in ways often impossible to see until years later, weaken her country's dictatorial regime and by extension other autocratic rulers.
The decades-long nightmare Esquivel confronted in Guatemala, says Emilie Teresa Smith in her cover feature, still resonates today. The so-called civil war, more accurately a near-genocidal slaughter by government forces and death squads, raged from the 1960s to 1996; hundreds of thousands of people, many of them Indigenous, were killed and more than 1 million displaced from their homes. Many of those fleeing state violence in Guatemala and elsewhere end up as immigrants to the United States—and face ongoing persecution here. As Joyce Dubensky explains, the same extremist elements that attack immigrants are at the heart of a resurgence of anti-Semitism, in the U.S. and abroad. That resurgence, dire as it seems, cannot match the power, courage, and perseverance of those who, as Esquivel put it, "know how marvelous it is to live threatened with Resurrection!"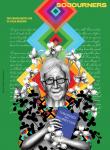 This appears in the March 2020 issue of Sojourners
Got something to say about what you're reading? We value your feedback!