ALL THREE FEATURE articles in this issue revolve around issues of power. Jenna Barnett looks at the power wielded by charismatic leaders such as Jean Vanier, one of the founders of the L'Arche communities, and how his power — and a lack of accountability — became a fountainhead of abuse. Mae Elise Cannon, executive director of Churches for Middle East Peace, explores the May 2022 killing of Palestinian Christian Shireen Abu Akleh by the Israeli military, a consequence of the massive power imbalance between the State of Israel and the Occupied Territories of Palestine. And Sojourners' Moya Harris, an itinerant elder in the African Methodist Episcopal Church, looks at the spiritual power of Lauryn Hill and other female rappers who address questions of "sexual power, sexism, embodiment, racism, and economic issues" in their lives and music.
As Christians enter the season of Lent, we reflect on human brokenness and who we are before the cross. Abusive power is not new. But it also does not have the final word, as the people in these stories show.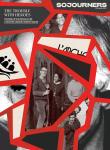 This appears in the February/March 2023 issue of Sojourners
Got something to say about what you're reading? We value your feedback!