At the foot of the Dronka mountains, pilgrims watch as a procession of religious leaders carrying icons and sacred symbols scale down the monastery of the Virgin Mary in Upper Egypt. The onlookers participate in the ceremony by chanting slogans, cheering, and clapping. Once the evening arrives, families partake in the merriments — carnival rides, bazaars, and holiday treats. What is normally a quiet monastery complex surrounded by lush and mountainous isolation transforms for two weeks into a lively celebration, attended by hundreds of thousands of believers.
Every August, Egypt's Coptic Christian community embarks on a two-week fast in observance of the Virgin Mary.
Coptic Christians revere Mary, and their largest festival in her honor is a pilgrimage to the farthest point to which the Holy Family is believed to have traveled in Egypt — the Dronka Monastery in Assiut (or Asyut), in Upper Egypt.
Pilgrims arrive from all corners of the country to pray, commemorate, and celebrate with fellow worshippers. Their journeys include traveling in crammed microbuses, long train rides, or sometimes cars.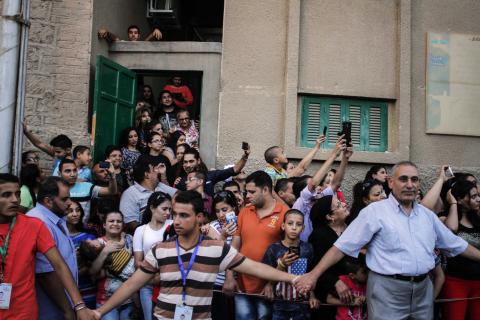 Though a Christian holiday, the Feast of the Theotokos (Latin for "Mother of God") also provides a rare opportunity for neighbors of many faiths to share in joyful expressions of devotion. Muslims hold Mary in high regard, and some visitors from last year's festivities included Muslim pilgrims accustomed to celebrating similar festivals dedicated to Islam's saints and prophets.
In many ways, the feast — also known as the Moulid al-Adra, for the Virgin Mary — functions as a common denominator for worshippers of all faiths in Egypt. The celebrations through the two-week period provide a rare opportunity for interfaith engagement.
But due to safety concerns and new security measures, this year's festival in Assiut was more somber than in previous years.
The celebrations stood in the shadow of a particularly difficult year for the Coptic minority. Egypt's Copts have been the targets of an increase in extremist violence from jihadist groups who have claimed responsibility for several attacks on churches and parishioners across the country.
In December 2016, ISIS claimed responsibility for an attack at St. Mark's Coptic Cathedral in Cairo, the seat of the Coptic Orthodox Pope, that killed 25 and injured dozens more. Since then, the Palm Sunday suicide bombings in Tanta and Alexandria in April, a bus shooting in Minya in May, and targeted attacks in the northern Sinai since February have all targeted Copts.
Representing the largest Christian community in the Middle East, the community boasts around nine million adherents in Egypt, a country of 95 million. Researchers have attributed the escalation of terror attacks against Egypt's Copts to ISIS' strategy to foment sectarian conflict and destabilize the country.
In the aftermath of these tragic events, the Egyptian government instituted a nationwide state of emergency and implemented a robust security program to protect the Coptic community from additional assaults. Some of these measures have included additional security personnel at Christian sites, increased surveillance and screening methods, and even cancelling religious celebrations.
But the new security protocols have in some ways complicated the country's interfaith dynamic and enabled public officials and communities to make more explicit distinctions along religious lines. For this year's Feast of the Virgin Mary, the celebration was limited to Christian pilgrims.
Photojournalist Hamada Elrasam covered the major pilgrimage to Assiut in 2016 but was nearly prevented from even entering the religious complex in 2017.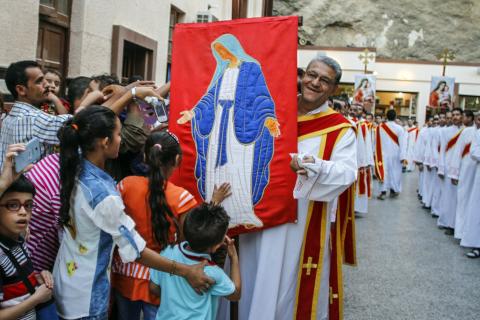 "While I was on a bus en route to the monastery, I was singled out and told Muslims were not allowed on site," Elrasam said.
Once on site, Elrasam met Adel Hanna Botros, a Coptic pilgrim, who remarked on the absence of his Muslim friends at this year's festivities.
"I used to come with my Muslim friends every year, but this year they have been banned," Botros said. "I know many Muslims — they respect and love Virgin Mary."
In Egypt, religious identity is stated on each resident's identification card. Egyptian names often reflect religious affiliation, and many Christians have Coptic crosses tattooed on their wrists. These cultural norms were practice before the increase in violence, but the introduction of rigorous screenings, checkpoints, and religious "profiling" has made these differences more acute.
Bishoy, a Coptic parishioner from Cairo, says plenty of obstacles face Copts in Egypts. Yet he is among many who are skeptical about the efficacy of these new measures, expressing his frustration with how they contribute to a renewed focus on religious identity.
"We hoped things would change, but we still face the same discrimination and obstacles as before," he said — obstacles that include limited access to employment opportunities, difficulties in controlling religious sites, and an inequitable legal system that results in lenient sentences for instances of inter-communal violence.
The combined effect has created a hostile environment for Copts, and placed additional impediments against Egypt's Copts occupying spaces, accessing opportunities, and exercising freedoms.
It has also damaged efforts at amicable relations between Copts and Muslims.
While authorities took precautions to protect Christians at this year's feast, they have also contributed to an environment of suspicion and distrust of Muslims.
It remains to be see whether celebrating commonalities among Egyptians of all religious backgrounds will comprise an integral part of policies designed to protect minorities and foster an inclusive environment for all. The Feast of the Virgin Mary, a striking example of interfaith engagement in Egypt, is at risk of becoming another casualty of extremist violence.
All photos by Hamada Elrasam for Sojourners.
Got something to say about what you're reading? We value your feedback!