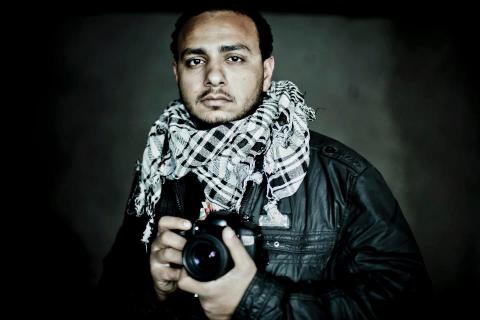 Hamada Elrasam
 is a documentary photographer who has worked for the Associated Press, the Global Post, Independent Magazine in East Africa, IGIHE.com, In-depth Africa Magazine, Al-Masry Al-Youm, and Voice Of America. He has also been a photo assistant with HBO, Harf Zimmerman "More-magazine," Paolo Pellegrin "National Geographic," and fixer with many foreign photojournalists and filmmakers, including HBO, Vice Media Inc, More Magazine, Washington Times, Contrasto, and others.
He is also a media consultant for Meredith Corporation, and the winner of Egypt Press Photo 2012 award first prize from the Egyptian Photojournalist Society.
Hamada has been a photographer for 7 years, covering humanitarian stories in Rwanda, Lebanon, Greece, and Egypt. His attention has focused primarily on freedom protests and human rights issues. He has also produced portraits and video work of victims of the Nile Pollution and the Egyptian revolution.
Posts By This Author
Targeted Yet Faithful: Egypt's Copts, Wary of Restrictions, Celebrate Virgin Mary Feast
, 10-10-2017
In Egypt, religious identity is stated on each resident's identification card. Egyptian names often reflect religious affiliation, and many Christians have Coptic crosses tattooed on their wrists. These cultural norms were practice before the increase in violence, but the introduction of rigorous screenings, checkpoints, and religious "profiling" has made these differences more acute.