Ahead of President-elect Joe Biden's inauguration, monuments are fenced off, streets are closed, and 20,000 National Guard members are positioned around Washington, D.C.
But some local organizations are more focused on the safety of Washingtonians — especially the safety of Black and brown Washingtonians who may be at greater risk of being targeted by right-wing groups, many of which have ties to white nationalism.
DC Peace Team, a local group that has provided nonviolent peacework for the last 10 years, worked with local Black-led racial justice groups throughout the summer's protests to provide protection and security.
While their work over the past several months has focused on de-escalating confrontations between law enforcement and Black Lives Matter protesters, recent pro-Trump rallies have been different.
"With these MAGA rallies, there is a much higher threat of weapons and physical violence," said Eli McCarthy, a DC Peace Team board member and professor of justice and peace studies at Georgetown University. "But there's also more opportunity to try to engage with them verbally and re-humanize the groups they may be committing violence against."
Safety has been a major point of concern in Washington after far-right rioters stormed the U.S. Capitol Building on Jan. 6., leaving five people, including a U.S. Capitol Police officer, dead.
Members of DC Peace Team, donning yellow vests with the phrase "Lighting Up Human Dignity," were present during the Jan. 6 riots. One member successfully defused a heated exchange between an armed pro-Trump demonstrator and a Black man defending the Black Lives Matter movement.
The member of DC Peace Team approached the armed man, using phrases such as "let's slow down, you don't need that weapon," rather than intervening physically, something that could have escalated the situation further.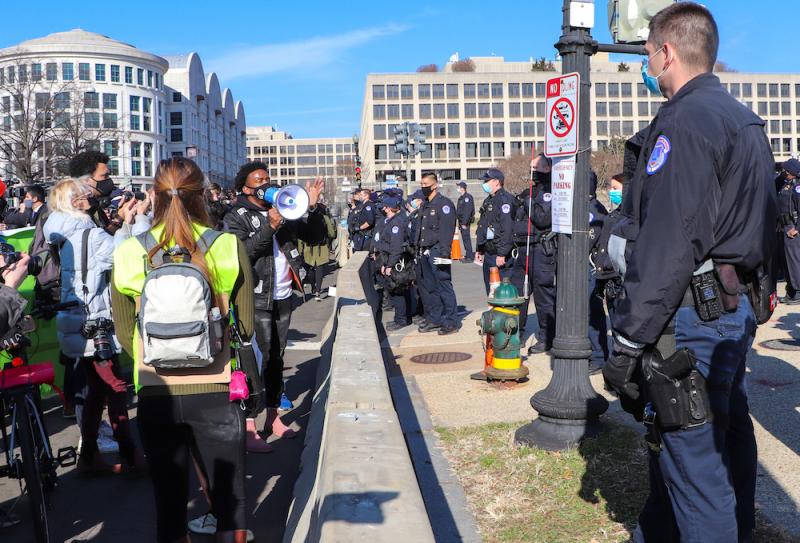 McCarthy said that nonviolence work is much bigger than just learning skills, it's an invitation to explore new forms of community protection and safety at the local and policy level. This reimagining of safety has been top of mind for many activists and lawmakers in the wake of the summer's George Floyd protests and calls to "Defund the Police."
"Regardless of if we are intervening with law enforcement or pro-Trump demonstrators, our goal is to re-humanize the groups they are committing violence against," McCarthy said. "We have to be willing to look at others with a sense of dignity."
The group holds virtual training sessions every month in order to teach volunteers different nonviolence intervention skills. This Saturday, ahead of inauguration, they will be doing an advanced training on unarmed protection in armed situations.
Along with providing security to Black and brown activists, DC Peace Team also plans to provide protection to unhoused people in the District and to local farmers markets that are still operating this week. They will also monitor the periphery of the Capitol, where there may be less law enforcement present.
McCarthy explained that they hope to encourage anyone who has come to Washington upset with Trump's loss to air their grievances without engaging in violence.
"We need to have a sense of hope that another way is possible," McCarthy said. "Otherwise, we're going to just keep getting these cycles of violence."
Got something to say about what you're reading? We value your feedback!