In the essay "How The Idea Of Hell Has Shaped The Way We Think," published in the Jan. 21 edition of the New Yorker, writer Vinson Cunningham examines The Penguin Book of Hell and launches into a stunning and far-ranging reflection on how the doctrine of hell relates to our concerns about the here and now. As a staff writer for the New Yorker since 2016, Cunningham has written on a variety of subjects including Pope Francis, theater, and the NBA. Prior to this, he was a columnist at McSweeney's and served as a staff assistant at the Obama White House.
I recently sat down with Cunningham at a coffee shop in Brooklyn to discuss religion, writing, and the eschatology of being a Knicks fan. Our conversation has been edited and condensed for clarity.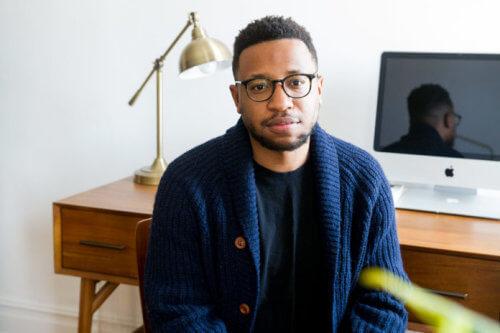 Daniel José Camacho, Sojourners: I read your hell piece, which a lot of people are talking about. In it, you talk about growing up in church and also mention your Jesuit education. How do you think that has formed you as a writer?
Vinson Cunningham: It's funny you talk about that in terms of writing because this is why I'm so attached to the idea of logos. In every context, spiritual, church, school, wherever, I've always had a really good education in terms of words themselves. My middle school was run by a Jesuit. We had this class that was called LSW, literature, speech, and writing, and it was probably a third of the class time. We would have a class where all we did was read, have a class where we did the traditional Socratic method around the table talking about books. Every week we had to write an essay and deliver it to the class. So, it was not only writing persuasively, but it was also oratory. And there was a competition. Every week somebody would come in first, second, third in this essay/speech contest. The first-place winner would win three of their favorite candies. The second-place would win two, third-place would win one. We were always competing over who would get the most Hershey's milk chocolate.
My mother who's now a minister was always a lay Bible teacher. She was always very keyed into the textual aspects of the Bible and really encouraged me to memorize passages of Scripture. I'm not as good anymore but I remember going through the Psalms. It was always about the language. And then growing up I went to different kinds of church. My father was a church musician and we ended up moving to Chicago when I was a kid because he got a job at a Catholic church. I was baptized Catholic. I went to a Catholic church in Chicago as well. So really my elementary and middle school was all Catholic although it wasn't Jesuit in Chicago. Every step of the way there was this language and humanities focus. The Bible and my religious life were always tied to the word. I remember once we moved back to New York, it was my first taste of hearing Pentecostal-style, long preaching. I was so excited by it. I could do an hour sermon, both loving the sermon and also kind of punching it up in my mind being like, "oh, he could've said that too." The King James Bible, especially, is still very foundational to my ear, to what I think sounds good. So, I think those things have always gone together.
Camacho: It's very easy for people to dismiss religion as an other-worldly affair, as escapist metaphysics and doctrine. And yet, you wrote about hell in such a way that the concerns are this-worldly. You bring up topics such as Black Lives Matter, the #MeToo movement, the idea of retribution and forgiveness, and prison abolition. You show how these lines between the secular and sacred kind of bleed into each other. Have you always seen things this sort of way?
Cunningham: This has been a development for me. This reflects my theological confusion, the diversity of influences I've had, including different kinds of church. For me, there's definitely a kind of charismatic religion that isn't really straightforwardly political at all. I remember always being confused by how someone like Jesse Jackson or Al Sharpton was a reverend. I never hear them talking about Christ crucified or the afterlife. They're talking about social justice, and in my church it wasn't like that. In fact, it was pejorative if you're bringing politics into the pulpit. It was about your personal holiness and it was about living to be with God in the afterlife. So, it took me a while to understand that there were different theological movements, different kinds of church that make the two one, that work through the claim that in order to take the metaphysical seriously, you would want to make the real world reflect the ideal to which you're moving, whether that's in the afterlife, whether it's happening concurrently and in the fullness of time. As I've gotten older, I think that has appealed to me more. I think it has something to do with our time. I think that our confusion over fundamentals right now is not just about right and wrong in a moment, but about the things that bring us together. What's the framework on which we hang our ethics? It makes sense to me that religion can step into that and say, there is a way to organize our affairs here that ramifies forward into eternity.
Camacho: You've also written on Pope Francis. You are somewhat of a fan or admirer.
Cunningham: I am. I totally am.
Camacho: Recently, I've been observing how he's been criticized for his response to the sexual abuse crisis in the Catholic Church. At the same time, there have also been these gestures — and my parents are from Latin America, so he's kind of our Pope— that I've appreciated. For example, he lifted sanctions on Nicaraguan priest Ernesto Cardenal. And he's done similar things for other figures of liberation theology like Gustavo Gutierrez from Peru. These were figures that were smeared by the church hierarchy in the past. I'm curious to hear what your take is on Pope Francis right now.
Cunningham: The great thing that Pope Francis does for me is help me understand a kind of political theology that brings God close to the poor, and that brings us all into a better relationship with the here and now, but never is mired, never stuck in the here. Its eyes are toward the horizon and it helps us to organize ourselves in the way that we act toward one another. And yeah, I think that is clearest with respect to Latin America. The great example of that is the canonization of Oscar Romero. I don't think you can call him specifically a liberation theology figure for many reasons. I think he, on purpose, distanced himself from that terminology but all of the hallmarks of the approach are there. It's there in Francis's entire religious language of being with and smelling like the sheep, and being on the periphery. It's there in that canonization. It's there in the recent Cardenal action. To me, it's very inspiring. I'm no Vatican expert and I still can't untangle all the things that are happening with the abuse crisis, which I do agree dampened his leadership and the effectiveness of his witness. But I do think that these other actions may end up being much more lasting. Think about his encyclical Laudato Si, about the care for our common home with respect to the environment. I think that will bear out to be incredibly important. To some people, it just sounded like another NGO statement, saying we need to be better. But to do that kind of deep theology and bring the environment into of a fuller theology of the self in relationship to creation, I think it's beautiful, it's amazing, and I think it rhymes with all these other things.
Even the Green New Deal. Alexandria Ocasio-Cortez is a Catholic, by the way. I don't think a lot of people pay as much attention to the piece that she wrote for America Magazine. The stuff that's enshrined in the Green New Deal, you can read that very theologically. And I think people made fun of the stuff about airline travel, about trying to basically fit a whole political statement into the Green New Deal. It turns out that saving our environment will necessitate a total reorientation of what we think of ourselves in relation to one another. It's not just a one-off thing, it has to do with the common good writ large. I think there's a way to even read this most recent flurry of climate debate on the national stage in a deeply spiritual way.
Camacho: The writing post that you have is quite prestigious but also comes with the pressure to perform. What are some of the most important lessons you've learned along the way of getting there but also trying to continue to grow?
I love writing for the New Yorker. It's been an ongoing education. They're really curious, brilliant, friendly people and being in the office is kind of like being at an ongoing graduate seminar. You stop at somebody's cubicle and they want to talk about this or that, and it's an ongoing conversation. So, I love it.
And you're also right. I personally am highly susceptible to pressure. I always want my stuff to be to be good and I don't want to let myself or anybody else down. I think that the antidote to that is to continue to feel that every piece that you write, everything that you do, is way of a way of learning, a mode of investigation. You're never, at least I am never, pretending to present a series of answers. The premise or the assignment or the book or the reporting is just a catapult into something else that I'm figuring out as I write. And that's what's exciting about writing, you get into the space that's not about you, about wondering what the reception of this piece will be — the vanity that every writer is susceptible to — but in that space of deep learning not only about the subject at hand but about yourself and about the movements of your mind. There's a moment where those two things, the topic and yourself are working in tandem, and that's exciting and that's what you're trying to do every time. A successful piece is one where that place, that confluence, is kind of enshrined and somebody else picks it up and they read it and they make that journey along with you. So, yeah, it's about continuing to work hard and sort of getting over yourself a little bit. And at a certain point, you have to accept that everything won't be perfect. You're not going to come off like a genius every time but you just have keep working. Writing should be fun.
Camacho: Going back to the topic of religion, let's talk about Duke basketball. This is another religion I've been initiated into. I occupy this space where I am both a Dukie and I'm a New Yorker who's a lifelong Knick fan. My mantra recently has been that we must place our hope in Zion. I don't know where else to find hope.
You wrote this piece about how Zion Williamson, the Duke freshman who's projected to be the number one pick in the upcoming NBA draft, glues us to the present. And yet, so much about the way college baseball players like him are observed is all about projection, about what they're going to produce in the future.
Cunningham: That's true. That mindset of projection is present not only in college basketball but even in the NBA. I'm far from the first person to make this point. I think it's mostly market driven — people click on these kinds of pieces more often than they do other kinds of pieces. "Oh, so and so wants to go to this team. And next year Kevin Durant's going to go here. Oh, these people are about to do this trade." The transactions have become as much of an attraction as the game itself. That's also true in terms of how we look at college players — this nasty sort of investment language, potential language, comes in. They become lines on a spreadsheet, like "how is this stock going to mature?" And I'm a Knicks fan, so my fandom is nothing without the future. So, in some ways, this makes total sense for me. I'm always thinking, "OK, but next year." There's this sort of Knicks eschatology. But that can be a bummer and I just love basketball. So, yes that piece was about how beautiful almost every feat of that kid turns out to be. Zion is amazing.
But I also think that piece was a bit of a statement of purpose for me. When I write about sports, I still want to write about the movements and write about the game. That's what matters to me as a writer. I'm not going to be the person that's going to be able to talk endlessly about what happens if Kevin Durant comes in next year. Even if you think about my colleagues, like I love the way Hilton Als puts bodies on the stage. I love the way Joan Acocella — our dance critic — writes about the human body and movement. My colleague Louisa Thomas writes about tennis and it's just gorgeous. So, I'm interested in writing that does that with sports. That piece about Zion Williamson was a little bit like a poke at myself, reminding me there's something awesome happening on every play at a certain level of basketball. Part of the fun of being a fan is to just continually refresh your appreciation for that.
Editor's Note: Hours after this conversation took place, Zion Williamson suffered a knee injury when his shoe exploded during the highly anticipated matchup between NO. 1 Duke and NO. 8 North Carolina. Williamson has since been listed as day-to-day with a grade 1 knee sprain.
Got something to say about what you're reading? We value your feedback!