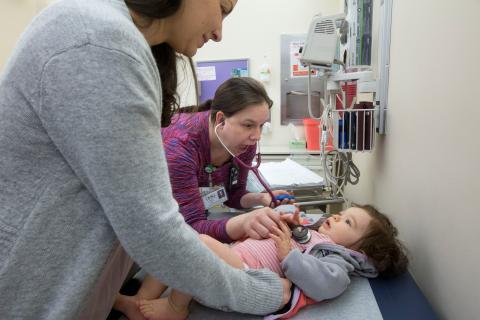 Federal funding for the Children's Health Insurance Program (CHIP) expired Sept. 30, 2017, and a stopgap bill Congress passed in December to extend government funding is rapidly running out of money — for some states, as early as next week.
The stall in funding for CHIP, a federally funded program that covers moderately low-income children in the U.S., leaves nearly nine million children and their families in a worrisome limbo.
Also on Friday, we learned that the price tag for extending CHIP for five years has shrunk dramatically. The CBO estimated the five-year extension Congress is considering now costs only $800 million, down from $8.3 billion, after Republicans repealed the individual mandate in their tax bill.

The mechanics are wonky, but this is the gist: Repealing the mandate increases ACA premiums; because ACA coverage is the alternative to CHIP for many kids, it would cost the federal government more if CHIP were to end and those children moved to the ACA markets. That makes extending CHIP cheaper, from the government's point of view.
A 2014 report by Health Affairs comparing Medicaid and CHIP coverage to employer-sponsored insurance, revealed that families enrolled in Medicaid or CHIP fared better in medical bill repayments than families with private insurance (10 percent versus 19 percent).
"These studies consistently show that CHIP has improved access to and affordability of care for kids," Jenny Kenney at the Urban Institute said.
Read more here.