Luisa bought a ring for her daughter Katherine's quince. She hopes to give it to her in a few months on her 15th birthday. But just in case she is not able to do so, she mailed it ahead of time to friends in the U.S. The two were separated on Christmas Day 2017 at the U.S.-Mexico border.
Luisa is one of 29 parents from Central America whose children have been taken by U.S. immigration officials and who presented themselves at the U.S.-Mexico border on Saturday to request asylum so that they can be reunited with their children.
Attorney Erika Pinheiro and the legal team from Al Otro Lado had prepared paperwork to present to border officials. They had been working with these families for months, from visiting remote towns in Honduras, Guatemala, and El Salvador to track down the parents to securing humanitarian visas to bring the families to Mexico. Groups like Families Belong Together and Together Rising raised funds to cover transportation and hotels stays for the families. Matthew 25 Southern California assisted with securing U.S. sponsors for the families who needed it.
Early Saturday morning, the group gathered at a hotel lobby where each of their names were called. A group of clergy people prayed with them, and together they sang songs of hope before they all walked to the port of entry. Officials met them with uncertainty as they declared they had no capacity to process them. Pinheiro and other attorneys persisted, insisting they be given the opportunity to present themselves before an official. Another group of clergy people led negotiations on the U.S. side.
As families sat on benches outside the port of entry, they shared granola bars and stories. That morning, Luisa's daughter had texted her encouraging words that kept her hopeful as the hours went by.
After almost eight hours of waiting, advocates were asked to take action for these families by calling Customs and Border Protection and their representatives. At the ninth hour, officials agreed to begin processing families.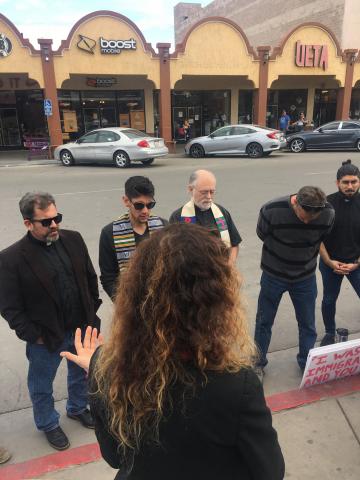 It was an intense moment: For the parents, the possibility to see their children became clearer. The hope to be on the other side and finally safe and free seemed within reach.
On that day darkness did not win; light overcame. CBP officials allowed all the families to be processed. Parents, activists, attorneys, clergy people, and some officials came together to see that justice was delivered. It was a beautiful sight: people from diverse backgrounds longing for reunification, for mending together what was literally torn apart.
But the journey isn't over. These 29 parents could spend months in detention as they fight for asylum.
Luisa and Katherine fear history will repeat itself. When Luisa made her initial journey, she was not aware her daughter would be taken from her. She said Katherine remembers the day a door was shut between them as she watched her mother handcuffed and taken away.
This administration should be held accountable for their actions regarding family separation and family reunification. Sojourners will continue to advocate on this matter until the government stops separating families unjustly, protects immigrant children, and honors the rights of asylum seekers as outlined in the U.S. Immigration and Nationality Act and the Universal Declaration of Human Rights.
Luisa should be allowed to celebrate her daughter's 15th birthday with her. And our government should not stand in the way.
Got something to say about what you're reading? We value your feedback!