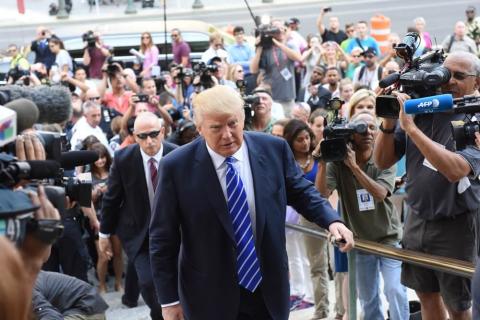 On May 6, the atheist group Freedom from Religion Foundation filed a lawsuit in federal court to nullify President Donald Trump's recent executive order on religious liberty, saying it bends the law to favor religious organizations over secular groups, reports the Associated Press.
As of May 5, according to the Boston Globe, 134 lawsuits have been brought against President Trump in federal court since his inauguration. This contrasts greatly with the number of lawsuits his three most recent predecessors faced at this point in their presidency: Obama met with 26 suits, Bush met with seven, and Clinton met with 15.
Many of the pending lawsuits are in response to the travel ban he initiated with executive orders signed in the early days of his presidency, banning immigrants and refugees from seven nations whose populations are mostly comprised of Muslims.
However, another notable lawsuit is one filed by a bar that's situated in close proximity to Trump International Hotel in Washington, D.C. The lawsuit argues that the hotel is garnering unfair profits, due to domestic and foreign government figures choosing to do their business there, in an effort to please the hotel's namesake and exchange favors with him.
In addition, USA Today reports that, prior to President Trump's inauguration, the 45th president of the United States was involved with more than 4,000 lawsuits. Some of them pertained to allegations of sexual misconduct brought against him. Others included Trump suing popular talk show host Bill Maher, and also suing two brothers with the last name Trump who utilized their surname in the branding of the small business they shared.
"In a courtroom, it's not the loudest voice that prevails," Washington State Attorney General Bob Ferguson, who took a legal stance against Trump's travel ban and halted it.
"You can't tweet your way out of the courtroom."
Read more here.
Send Us a Note
Got something to say about what you're reading? We value your feedback!