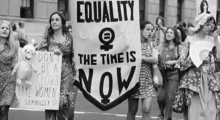 Bras weren't the only things the second-wave feminists burned in the '60s. But that's all I learned about the movement in school and casual conversation (on the rare occasions when feminist movements were brought up). The documentary, She's Beautiful When She's Angry, fills in what our education system and historical imaginations leave out.
Second-wave feminists also burned oppressive patriarchy, definitions of feminine beauty, and, most poignant to me, their hard-earned diplomas. They literally set fire to bachelors degrees, masters degrees, and PhD certificates. An activist in the film explained, "We had graduated and learned nothing about women."
This documentary shows us what the textbooks didn't and still don't show often enough — the early, angry, undoubtedly beautiful grassroots radicals.
Of course, not all anger is beautiful. Some anger is abusive, relentless, and uncontrollable. I noticed three types of anger in the documentary — one beautiful, and two problematic.