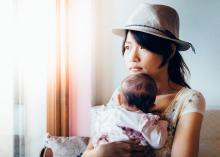 I've heard it said that you don't know true love until you hold your baby for the first time. I hate that, for so many reasons. And I hate whoever has said it to me or anyone else. Hate it.
This may come as a shock, but I've got the slightest anger issue. It's more accurate to say I didn't know true anger until I became a mother.
There's the daily anger, like slaving away in the kitchen for hours only to have people gag and demand crunchy toast and cookies to eat, while they scream and scratch their sister and slip on spilled water and cry for hours. There's the hourly anger, like the struggle between wanting to check out and check e-mail in the face of little people wanting to play or needing to be disciplined.