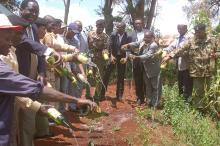 Clerics in Kenya are backing a presidential decree banning homemade brews, largely blamed for a recent spate of deaths in the East African nation.
The homemade alcoholic drinks, popularly dubbed chang'aa ("kill me quick") or Kumi Kumi (ten-ten shillings), are popular with the poor, who cannot afford commercially brewed bottled beer, which is heavily taxed.
Until recently, most Kenyan homemade brews were safe and were consumed at traditional parties, but unscrupulous brewers in the last few years have been introducing industrial chemicals such as methanol to make the drinks stronger and to quicken the brewing process, turning the drinks into poisons.