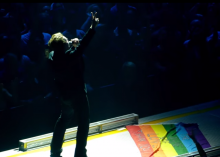 On Sunday, June 28, the day of gay pride parades in Chicago and around the world, millions celebrated the recent United States' Supreme Court decision that effectively legalized gay marriage at the national level. But David Wichman took his personal Pride rally to the General Admission (GA) line at the United Center.
With his hand-decorated rainbow flag in tow, he wanted to get a place close to the stage. His flag simply said: "IN THE NAME OF LOVE – THANK YOU!" Wichman wanted Bono and the band to know their work as allies had not gone unnoticed.
Dozens of fans bring their banners and signs to the GA floor on each night of the tour — but not every fan has their banner or sign lifted high by the lead singer onstage. As Bono had done in Arizona in May after the news of Ireland's successful marriage referendum, he turned this spirited Sunday night show into a celebration of marriage (his wife Ali was in attendance), and a joyful tribute to the civil rights advocates who worked to make marriage equality a reality for the whole United States.