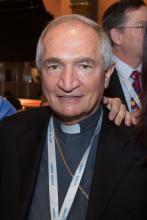 The Vatican has effectively addressed the "worldwide scourge" of clerical sexual abuse over the past decade and promoted the reporting of allegations to both church and legal authorities, a United Nations panel heard on Tuesday.
The Vatican's ambassador to U.N. agencies in Geneva, Archbishop Silvano Tomasi, said the Catholic Church had "crossed the threshold" in its approach to the issue of abuse, saying the church's internal culture had changed.
Tomasi faced intense questioning from members of the U.N. committee investigating whether the church upholds the U.N. convention against torture beyond the walls of the world's smallest country, the Vatican City state.