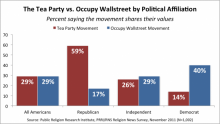 A new poll released this morning by Public Religion Research Institute shows the American public has clear ideas about what steps political leaders should take to reduce the federal deficit.

The poll shows that a majority of white evangelicals are opposed to cutting federal anti-poverty programs for the poor and nearly three-quarters of white evangelicals oppose cutting funding for religious organizations that help the poor.
The poll, based on a survey of 1,002 American adults performed November 10 -14, also shows a nation divided both by political affiliation and generation when it comes to attitudes towards Occupy Wall Street and the Tea Party.

The survey found that nearly 7-in-10 (68 percent) of Americans say that in order to reduce the deficit, it's fair to ask wealthier Americans to pay a greater percentage in taxes than the middle class or those less well off.