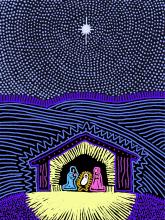 This past Sunday, I had the opportunity to watch our children's ministry present through play, song, and dance the story of the birth of Jesus Christ.
No matter how many times I have seen this story, it's always amazing that this miracle that happened in a manger could have such a huge impact on the lives of so many. Jesus was not born with a silver spoon in his mouth, his parents did not have the best reputation, and he definitely wasn't birthed in a fancy hospital. Instead, he was born where animals were kept — not the best conditions environmentally at all! Further, Jesus Christ became an advocate for the poor, for those that do not always have a voice, and for those that were suffering from terrible mistreatment, disease, and sickness.
I truly believe that Jesus's focus on the "least of these" is a model for advocacy, especially for the environmental justice movement.