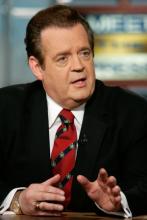 Breaking a1e longstanding personal pledge, Southern Baptist leader Richard Land has endorsed GOP presidential nominee Mitt Romney, saying next week's election is the most important since Abraham Lincoln's win in 1860 and he can no longer stay silent.
"America is at a fork in the road and must choose between a President Barack Obama who wants to remake America in the model of a European welfare state and a Governor Mitt Romney who wants to restore a more economically vibrant and traditionally moral America," Land wrote in an Oct. 26 column in the Christian Post.
Land, who is executive editor of the independent Christian Post and the top public policy spokesman for the SBC, said the "stark and revealing" differences between the Republicans and Democrats on abortion rights and same-sex marriage guided his decision. 
"For Christians of traditional religious faith, there cannot be more fundamental issues than the protection of the sanctity of all human life from conception to natural death and the defense of marriage as a divinely-ordained institution between one man and one woman," he wrote.
Land's endorsement comes just as Romney's campaign has been trying to cast the candidate in a moderate light by downplaying the Republican's views on abortion and gay rights and saying voters should not expect him to take significant action on those social issues if he is elected.