After 31 years, the band R.E.M. has called it a day. ...
One of my earliest experiences with music that really mattered was happened in the back seat of my parent's Oldsmobile sedan in 1988. Mom was driving my sister and me home from the mall and took a shortcut through the back woods near our central Ohio town while R.E.M.'s new single "Stand" was playing. Mom turned it up and I immediately recalled it as "that song with the dance video" on MTV.
In those early years I grew up with MTV as a sort of third parent. I say that with a sense of pride, for what else would my early adolescent development be without Toni Basil's "Mickey," those first Madonna videos, Michael Jackson's "Thriller," The Police, Live Aid, and of, course, R.E.M. My dad worked long hours, my teenage aunt would occasionally spend the night with my mom and we'd all inevitably fall asleep with those gems on in the background.
I didn't grow up in the church. With a curious spirit, a ton of questions and a wandering heart, even at that early age I turned to the culture around me to help sort out the universe. And I say this with all honesty and sincerity: I think R.E.M. taught me foundational lessons in a life well lived -- in the public square, for others, and the good world around me.
The "Stand" video is extremely goofy: Four actors dance to lead singer Michael Stipe's lyrics on an over-sized compass while images of maps, people, nature, and the world around them convey the need to "think about the place where you live."
Recorded in the twilight of the Reagan administration, with its album "Green" R.E.M. had become increasingly vocal for various causes, including nuclear disarmament and environmental protection. Apparently they were known as becoming "a bit political" but this was all lost on me, an eight year old, who knew the song by heart because of the silly dance.
But think about it. That "Stand" video, with its rote instruction, was probably as good a Sunday school lesson on incarnational living I could have heard anywhere.
The band's next album, "Out of Time," was the first album I remember owning all by myself. Grandma got the cassette for me and put it in my Easter basket in 1991, a recommendation from a young store clerk at the local JC Penney. (Thank you, whoever you are!)
I look back on this musical epiphany with a welcome sense of irony. It was no small feat for my Southern Baptist grandmother to expose her impressionable young grandson to R.E.M.'s spiritual tale "Losing My Religion" or the troubled romance of "Me in Honey."
The album's more existential themes would return to me some years later, while on staff at a summer church camp. Those moody songs on the back end provided the the soil in which my new-found friendship with Paul, a fellow summer staff member and traveler on the way, would grow. We'd stay behind to explore issues of identity with the aid of our new-found friends Kierkegaard and Dostoevsky, while others went out and spent their few spare dollars at the movies or the bowling alley.
Paul and I preferred to sit with R.E.M. and its introspective, angsty, half-despair songs such as "Half A World Away" and "Country Feedback." They were heady days indeed for two young men on summer college break, both of us wrestling with our respective calls to Christian ministry.
If I remember correctly, that summer the "thinking-evangelical" church world was in the full throes of debate around postmodernism. But Paul and I found a much more interesting dialog with R.E.M., particularly with Stipe's lyrics about relationships, doubt, vulnerability, and social concerns.
There seem to be two camps of R.E.M. fans, and of course they are generational. There is the first camp that went away to college and discovered these slightly older brothers and the jangly guitar of Peter Buck, the anchor of Bill Berry's drumming, Mike Mills' bass and harmony vocals with the ever-enigmatic Stipe as front-man.
Then there are fans of a slightly more recent vintage (like me) who saw the band more like older, wizened uncles who seemed a bit moody and played mandolin while everyone else in the emerging grunge scene stuck with their clumpy power chords.
In 2008, it was the sort of defiant hope that Stipe, Buck, and Mills conveyed (Berry had long since departed) on their 14th album, "Accelerate" which eventually brought many fans -- including me -- back to the band. Of course, there was the summer church camp experience Stipe describes in the song "Supernatural Superserious" that I immediately identified with, as well as the return-to-form guitars of "Man-sized Wreath" and "Horse to Water." But most striking was the album-opener "Living Well Is the Best Revenge."
Don't turn your talking points on me,
history will set me free
The future's ours and you don't
even rate a footnote now!
So who's chasing you? Where did you go?
You disappeared mid-sentence
In a judgement crisis I see my anecdote for it
You weakened shell
All your sad and lost apostles hum my
name and flare their nostrils
Choking on the bones you toss to them
Well I'm not one to sit and spin
'Cause living well's the best revenge
Baby, I am calling you on that
With the title nicked (and cited in the liner notes) from George Herbert, the 17th century Anglican priest and "metaphysical poet," R.E.M. were once again in full flight. Buck and Mills, in classic pose, brace Stipe's growling, preachy voice as he cries, "Unbelievable, the gospel according to who?"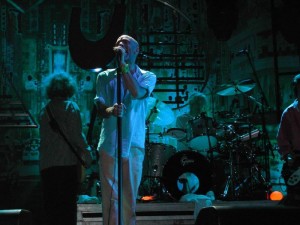 In the defiance of "Living Well" there remained an undeniable hope. In an interview with National Public Radio, the band noted that the album's themes were, in part, about the country's response to Hurricane Katrina.
"My grandfather and his father and his father and his father and his father were Methodist ministers, so I come from a place of faith," Stipe remarked, adding that the songs were reflections on "how [faith is] interpreted by people and how it's abused."
Stipe had gone deeper into these themes in a 2006 interview with Beliefnet's Michael Kress. Highlighting his relief work with Mercy Corps, Stipe reaches back to the Christian nurture of his family, and the true meaning of faith. Lifting up his great-grandfather's witness in particular, Stipe articulates in stark clarity what it might look like to follow Jesus in this age:
"[I]t's really, really simple. If it's the teachings of Jesus that you're following, it's really easy to cut to the chase and get down to what did this man's life really represent. And how much of that is acknowledged in the Bible? I think a lot. How much of that can get muddied by people's interpretation of the Bible and perhaps not recognizing that a lot of it is allegory
Got something to say about what you're reading? We value your feedback!