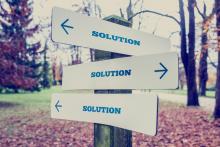 I gave up street evangelizing a long time ago. It was a short-lived career — a few weekends into town with a friend, praying for God to help us meet someone we could share Jesus with. It quickly (thankfully) became clear to me that this business of following God is much better done in the context of long-term relationships with a broader understanding of salvation and mission.
Any time we try to confine the big and beautiful Good News of God into a simplistic message small enough to fit onto a tract or a 10-minute awkward conversation, we cut out too many important details. The truncated gospel of the Four Spiritual Laws requires that we get to the point — Jesus is the answer — as quickly as possible, lest our conversion, I mean, conversation partner gets away from us.
For Jesus to be the answer, there's got to be a problem, and so we belabor the problem in order to solve it.
The mathematical equation of the gospel made sense to me when I was a child and perhaps into young adulthood. Prove the problem and solve the equation. Everything was simple, organized, and neatly categorized.
Somewhere along the way, it stopped making sense.