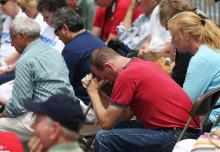 Loving God,
Darkness has covered our nation and thick darkness has descended upon our people. Tragedy has clouded out the light. Shots rang out in Aurora, Colorado. Some people were wounded by gas and bullets. Others were murdered.
In this time of darkness may your resilient light shine forth.
May your light shine on the family and friends of the 12 people who were killed during this senseless crime. There's no way to explain the darkness that indiscriminately murders children, women, and men. They were each someone's son, daughter, mother, or father — and nobody can fully understand the immense grief and righteous anger of their loved ones. They need your light, Loving God. Please pour it forth....