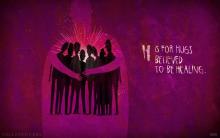 As a native New Yorker, I can never forget Tuesday, September 11, 2001. I was in college, but heading to my part-time job that morning. My car was being fixed, so my father drove me to work. There was an unusual amount of traffic and as we turned on the radio, we heard a reporter talk about a plane that hit the World Trade Center.
The first thought we had was that this was an accident. It had to be an accident, right? As we listened to the reports though, the second plane hit and it was clear that something was very, horribly, terrifyingly wrong.
From our office in Queens, we watched the towers burn and then collapse. The image of the great cloud of smoke and debris encompassing the skyline has been burned on my brain. And a few days later, while handing out sandwiches to mourners at the makeshift memorial at Union Square with my parents' church and non-profit organization, the feeling of hugging a total stranger while she wept on my shoulder will never leave me.
It is impossible to forget.
I must admit the timeliness on the part of HBO to air the season finale of The Leftovers in the week of 9/11. Tom Perotta, who authored the play on which the show is based, purposely included allusions to 9/11. Rather than a theological treatise on the Rapture, it is a beautiful case study in grief and the excruciating tension between the desire to move forward and the need to remember.