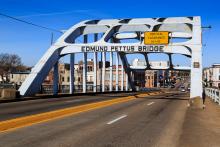 Making a whip of cords, he drove all of them out of the temple, both the sheep and the cattle. He also poured out the coins of the money-changers and overturned their tables.He told those who were selling the doves, 'Take these things out of here! Stop making my Father's house a market-place!' - John 2:15,16
This is one of the most important stories in the life of Jesus. So important, that it's one of a handful of stories that all four Gospel writers actually all share.
Even though they remember it differently.
Matthew, Mark, and Luke — they recall that this episode where Jesus entered the Temple grounds and stirred stuff up once and for all — they remember it near the end of his life. They place it as one of the main reasons that Jesus is arrested and put to death as a capitol offense against the Roman Empire.
Walking into the Temple — run by the Jewish religious elite who had been put in place by the Roman imperial oppressors — was tantamount into walking into a federal government building and blowing it up.
Except Jesus doesn't do that. Jesus is a pacifist. Jesus is a prophet.