Rev. Dr. Dianne Glave is currently a staff member of the Western Pennsylvania United Methodist Conference Center as the Coordinator of Diversity Development.
She completed her M.Div. at the Candler School of Theology at Emory University. After completing her degree, she served as a local pastor at Crafton United Methodist Church and Ingomar Church in Pittsburgh.
Dr. Glave's background, an M.A. and Ph.D. in History with an emphasis on African American and environmental history and experience as a professor in African American Studies and Ethnic Studies, serves as a foundation for her current position.
Her publications include Rooted in the Earth: Reclaiming the African American Environmental Heritage and To Love the Wind and the Rain: African American Environmental History, a co‐edited volume.
Posts By This Author
The Green Confessions of Nat Turner
03-22-2016
The rich and varied roots of black environmental liberation theology.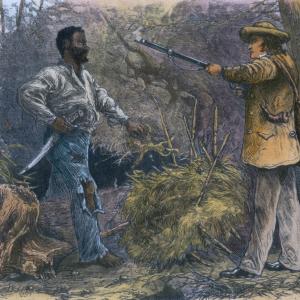 WHEN ONE THINKS of black environmental liberation theology, the name of slave-rebellion leader Nat Turner might not immediately spring to mind. Perhaps it should.
A biopic on the life of Turner, called The Birth of a Nation, is scheduled for release in October. Based on early reviews, I expect the film by director Nate Parker (Red Tails, Arbitrage) to deliver a powerful recounting of Turner's life.
In 1831, Turner led enslaved and free African Americans in a rebellion against slaveholders in Southampton County, Va. The uprising was swift, violent, and bloody. At least 200 African Americans and more than 50 whites died. After whites quelled the rebellion, Turner hid in the woods for several weeks. He was eventually captured and executed.
Turner's time alone in the woods offers surprising insights. He is an African-American man familiar with nature. He is a Christian preacher given to visions. From that arises a deep environmental wisdom.
The original report of the slave rebellion is found in The Confessions of Nat Turner, The Leader of the Late Insurrection in Southampton VA, as told by Turner to a white lawyer in Richmond, Va. "The blood of Christ [that] had been shed on this earth, and had ascended to heaven for the salvation of sinners," Turner says in the book, "was now returning to earth again in the form of dew."
Turner's visions were based on his understanding of the Bible. He was literate (that in itself was unusual for one enslaved) and worshipped God. Turner was a prophet of God, in the context of nature and revolt.
African Americans, Eco-Resistance, and Eco-Inequity
01-13-2016
Homestead Grays and Frick Park
Growing up African American in Queens, New York, I had access to the outdoors in many ways — a unique benefit for many African-American children. From childhood, I frequently attended ball games at the Mets' Shea Stadium, and Brookville Park was quickly accessible on foot or by bike from my home in Rosedale. At both places, I benefited from sunshine and recreation. There, I did not have to worry about resistance or violence. But for many African Americans, access to outdoor and recreational space, including parks, has been complex. My own scholarship has been a study of eco-resistance and violence in green spaces by and against African Americans.