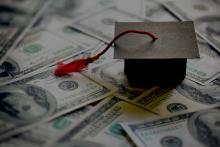 Recently I experienced a wave of frustration related to my student loan debt. This happens from time to time, and really anything can set it off. Debt is stressful, as most of us are aware. Before I dive in, though, I've got to say that I'm more fortunate than many; I've been able to steadily pay on my debt for a while now. It's still sizable enough to haunt me, but at least it isn't a Poltergeist-style terror. That's not insignificant.
Nothing so far is unique. Thousands of former students are dealing with the exact same thing, though in varying levels of distress or ease. What makes it slightly different is what degree I went into debt for.
I received a Master of Theological Studies degree from Vanderbilt Divinity School. So we're talking about 1) a graduate degree, as opposed to a bachelor's, which is widely regarded as necessary in this country to participate in the job market; and 2) a professional degree, meant to lead to practical ministerial work for the social good.