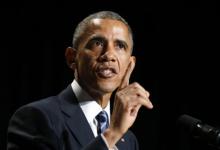 Despite the fuming of a former Republican governor, President Obama didn't offend "every believing Christian in the United States" when he noted at a national prayer breakfast that we, too, "committed terrible deeds" in the name of our religion.
I, for one, was pleased to have us called back from the "high horse" that Christian religionists often occupy when criticizing other faiths while ignoring the mote in our own eye.
In our pursuit of religious victory, we Christians have at times been a scourge on civilization. We have slaughtered many, and not just centuries ago in a safe and distant past but still today.
We have served as apologists for slavery, apartheid, racial segregation, white terrorism of blacks in the South, suppression of labor, and repression of the poor and immigrant. Some of our misguided brethren are declaring war now on women and on gays, as if God's promise to love all of humanity needed to be ignored.
We have winked at our own scandals while presuming to judge our neighbors for their flaws. We have sought special favors — such as tax exemption — and used the benefits to serve ourselves. With the world around us descending into violence and intolerance, we bicker about doctrine and property ownership.
Our hands are stained. Plain and simple.