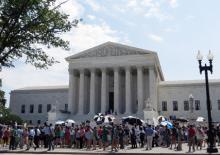 As the U.S. Supreme Court prepares to hear arguments on April 28 that could wind up legalizing gay marriage nationwide, dozens of Christian leaders have issued a call to civil authorities to preserve "the unique meaning of marriage in the law" — but also to "protect the rights of those with differing views of marriage."
The open letter "to all in positions of public service," released April 23, seems to reflect a growing recognition by same-sex marriage foes that they may be on the losing side of the legal battle to bar gay marriage and need to broaden their focus to securing protections for believers.
Gay marriage opponents are also losing the battle for the hearts and minds of their own flocks: Polls show that American believers, like the rest of the public, are growing much more accepting of same-sex relationships, or at least much less inclined to invest time or resources into waging the fight against legalizing gay marriage.
This week's statement, "The Defense of Marriage and the Right of Religious Freedom: Reaffirming a Shared Witness," was signed by 35 religious leaders representing Catholic, evangelical, Pentecostal, Orthodox, and Mormon churches. The only non-Christian signatory was Imam Faizul Khan of the Islamic Society of Washington Area.
The leaders forcefully reiterate their shared belief that marriage is "the union of one man and one woman" and argue that apart from religious doctrines, the state "has a compelling interest in maintaining marriage" for the good of society and the "well-being of children."