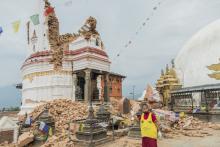 About 80 percent of Nepalese are Hindu, making Nepal the second-largest Hindu nation outside of India, with about 2 percent of the global total. Most Hindus believe in a kind of fatalism, and many here seemed unrattled by the quake as a test of faith, even as their temples and shrines were flattened.
"God had predestined it. He knew about it," said Suresh Shrestha, a Hindu and a hotel owner. His house was partially damaged and he is living in a tent on the Tundikhel ground in Kathmandu.
Akriti Mahajan, a young girl who was standing outside her family's tent nearby, suspects that man-made climate change had something to do with it.
"Humans are behind it," she said. "If God had a role, this wouldn't have happened."