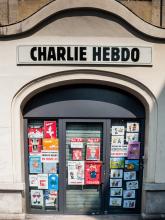 A horrific attack on a satirical magazine that mocked Islam left 12 people dead on Jan. 7 and put the Muslim community on edge.
The hunt is now on for the assailants, two or three masked men who witnesses and police say opened fire with automatic weapons inside the office of French weekly Charlie Hebdo.
"People are exploiting this one way or another," said Fateh Kimouche, 38, the founder of Al Kanz, a prominent French Muslim blog.
"The terrorists didn't distinguish what faith their victims were from. … I just found out that one of the cops killed, his name was Ahmed. Even Muslims aren't safe."
The three gunmen who attacked the magazine during an editorial meeting reportedly shouted "Allahu Akbar," and described themselves as al-Qaida in Yemen. They killed prominent cartoonists, staff members and two police officers in what French officials described as a carefully planned and executed attack.
The French weekly has drawn the ire of Muslims before. Its offices were firebombed in 2011, after a spoof issue skewering Muhammad, the Muslim prophet. A year later, the magazine published crude caricatures of Muhammad, shown naked and in sexual poses. Most Muslims object to any depictions of the prophet, even if reverent.
Reaction — and condemnation —  was swift.