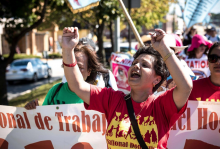 In the past six days, I've walked 75 miles alongside 100 other women. We have 25 miles left to go.
We are 100 women who hail from all four corners of the earth. There are women from Uganda, China, Mexico, Haiti, the Philippines, Mexico, El Salvador, Argentina, Brazil, Vietnam, Peru, the Bahamas, and more. But we all call this country home.
Several grandmothers joined us on this journey, and their perseverance is an example for all of us. Our youngest walker is Jocelyn — she is four years old, and her joy is contagious. We all ask to take turns pushing her stroller. As we walk, we share our stories, our suffering, and our dreams. We sing, we pray, and we also walk in silence — reflecting on our faith, the meaning of compassion, dignity, and hope.
We are all here because we have been inspired by Pope Francis' message of love and compassion towards migrants and refugees. We hope that he will pray for the 11 million undocumented immigrants who endure daily hardship, living in fear of deportation and family separation. We hope that he can touch the hearts of Americans across the nation to treat migrants with compassion and not cruelty.