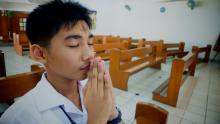 Today is Ash Wednesday and the beginning of Lent. I grew up in a small evangelical church that only paid attention to the Christian calendar on Christmas and Easter. But over many years now, I have learned to celebrate the richness of all the Christian seasons from my friends in more liturgical traditions and from marrying a Church of England priest!
Lent offers us the much-needed spiritual preparation for Easter. Ash Wednesday is the place to begin; and that often includes fasting — in different ways and traditions. At Sojourners, we usually have a big staff pancake breakfast on Shrove Tuesday morning, the day before Ash Wednesday. But today, many of us are fasting.
Ash Wednesday doesn't begin a hunger strike, but rather a season of self-examination, spiritual reflection, repentance, sacrifice, and focused prayer. Lent is a time to examine our hearts and lives, to acknowledge our sins, to look for the ways we are not choosing the gospel or welcoming those whom Jesus calls us to.