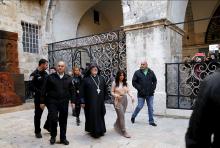 This has gotta be a first: Kim Kardashian is not in the picture.
But it's happened, in Israel, on an ultra-Orthodox Jewish news website, which covered or blurred her face in a picture taken of her during her stopover in Jerusalem this week.
Kim and husband Kanye West had dinner on April 13 with Jerusalem Mayor Nir Barkat, but the picture of the three of them was altered.
It showed only Kanye and the mayor, with Kim's face covered by a picture of a receipt or just blurred to the point of oblivion.
Nissim Ben Haim, an editor at the Kikar HaShabbat website, said April 15 they removed Kim because she is a "pornographic symbol" who contradicts ultra-Orthodox values, according to The Associated Press.
The website wasn't too happy with Barkat, either, because he dined with the couple at a high-end but non-kosher restaurant, and supposedly the bill was was nearly $700.
In its article, the website referred to Kim as merely "West's wife," which must have been amusing to both.