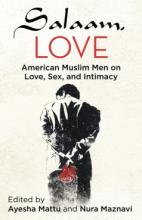 Oppressive. Boorish. Misogynist: Those are the popular images of Muslim men and how they treat women.
But there's more to it than that, thought Ayesha Mattu and Nura Maznavi, the editors of Love, InshAllah: The Secret Love Lives of American Muslim Women.
Many Muslims welcomed the two women's 2012 collection of 25 stories as an overdue conversation starter. Soon they got flooded with requests for a male version.
They initially dismissed the idea, assuming men wouldn't want to write so openly about such intimate matters. But as the queries kept coming, the two editors decided a Muslim male version wasn't that far-fetched, and given the stereotypes of Muslim men, much needed.