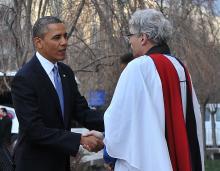 A presidential inauguration is by tradition the grandest ritual of America's civil religion, but President Obama took the oath of office on Monday in a ceremony that was explicit in joining theology to the nation's destiny and setting out a biblical vision of equality that includes race, gender, class, and, most controversially, sexual orientation.
Obama's speech, his second inaugural address, repeatedly cited civic and religious doctrines — namely the God-given equality extolled by the "founding creed" of the Declaration of Independence — to essentially reconsecrate the country to the common good and to the dignity of each person.
It was a faith-infused event that recognized both the original sins as well as the later atonements of America's history, especially on race, which was front and center as the nation's first African-American president took the oath on the holiday commemorating the Rev. Martin Luther King, Jr.
And Obama and other speakers vividly traced the nation's tortuous path from slavery to civil rights — from the Emancipation Proclamation 150 years ago to the March on Washington 50 years ago, the latter presided over by King.