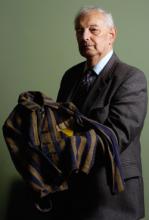 WASHINGTON — The adult survivors of the Holocaust are mostly gone now, and those who survived as children — and were old enough at the time to remember their ordeals — are now in their 70s and 80s.
It won't be long before no eyewitnesses remain.
That's why, as the U.S. Holocaust Memorial Museum marks its 20th anniversary today (April 29) with more than 750 survivors, museum officials are calling it one the last large gatherings of those who managed to escape Hitler's death machine.
For those who have dedicated themselves to teaching future generations about the Holocaust and its victims, the demise of the survivors means looking backward in a different way — a way that no longer includes people looking others straight in the face and recounting what they saw and what they lived.