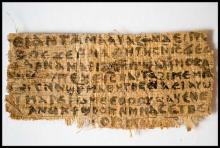 The Vatican's newspaper has declared the controversial "Jesus wife" papyrus fragment "a fake."
L'Osservatore Romano on Friday (Sept. 28) devoted two articles to Harvard professor Karen King's claim that a 4th century Coptic papyrus fragment showed that some early Christians believed that Jesus was married.
The announcement of the discovery on Sept. 18 made headlines worldwide but was met with skepticism by scholars who questioned the authenticity of the fragment.
In the Vatican daily, a detailed and critical analysis of King's research by leading Coptic scholar Alberto Camplani is accompanied by a punchy column by the newspaper's editor, Giovanni Maria Vian, who is a historian of early Christianity.
Vian writes that there are "considerable reasons" to think that the fragment is nothing more than a "clumsy fake." Moreover, according to Vian, King's interpretation of its content is "wholly implausible" and bends the facts to suit "a contemporary ideology which has nothing to do with ancient Christian history, or with the figure of Jesus".
"At any rate, it's a fake," he concludes.