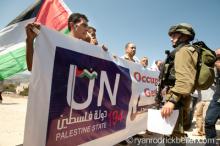 On Nov. 29, Palestinians will bid to become a "non-member observer state" in the United Nations. If approved, this would be a major step toward full statehood for Palestinians. Israel, and perhaps more important, the United States, are against this move, not least for fear of possible war-crime investigations against Israel. Israel's rationale has always been that a final resolution cannot be achieved unilaterally, but only through direct negotiations. Ironically, Israel achieved its own independence unilaterally and through the United Nations.
Palestinian Christians leaders have sent a strong message of support for this step. A statement signed by 100 community leader says:
We believe the Palestine Liberation Organization's initiative to enhance Palestine's status in the United Nations to an Observer State is a positive, collective, and moral step that will get us closer to freedom. This is a step in the right direction for the cause of a just peace in the region. We fully endorse this bid, just as we supported Palestine's application for full membership of the United Nations a year ago.