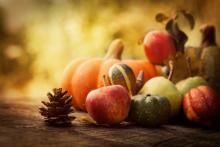 I love Thanksgiving.
I love the food, the fellowship, the friends and family, the football, and did I mention that I love the food.  Unashamedly it might very well be my favorite holiday.  Yet, despite all my warm feelings about Thanksgiving, I am not blind to its historical shortcomings. 
As Jane Kamensky says, "…holidays say much less about who we really were in some specific Then, than about who we want to be in an ever changing Now." I think she's right about this.  In so many cases, our national celebrations and observances are mere expressions of our collective aspirations and not our actuality.  One clear example of this is the history and practice of the Thanksgiving holiday.
As it goes, every year people throughout this nation gather for a commemorative feast of sorts where we give praises to God for the individual and collective blessings bestowed upon us.  This tradition goes back to the 17th century when the New England colonists, also known as pilgrims, celebrated their first harvest in the New World. 
On the surface, this seems harmless enough but a closer reading of history tells a more dubious story.