family reunification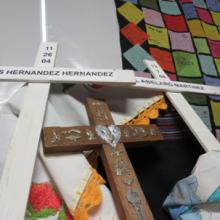 As an icy wind whipped the sides of a packed tent, five activists committed themselves Tuesday to fast from food and drink and to camp in front of the U.S. Capitol until Congress passes comprehensive immigration reform.
"I know that there are going to be difficult days ahead of me," said Eliseo Medina from the Service Employees International Union. "I know that going without food will not be easy and I know that I will suffer physical hunger."
"But there is a deeper hunger within me, a hunger for an end to a system that creates such misery among those who come here to escape poverty and violence in search of the American dream."
Religious and labor leaders joined immigration activists at the launch of the "Fast for Families: A Call for Immigration Reform and Citizenship." Many will participate as "solidarity fasters," fasting for a shorter time.
There's a wonderful family at my church who are from Rwanda.