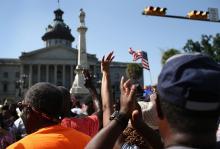 When the Confederate flag was removed from the South Carolina statehouse Friday morning, Gov. Nikki Haley spoke solemnly of the nine black churchgoers who were shot to death less than a month ago at Charleston's Emanuel African Methodist Episcopal Church.
"We have all been struck by what was a tragedy we didn't think we would ever encounter," Haley said of the horrifying massacre before she signed the bill with nine pens that will go to the families of the victims. "Nine amazing people that forever changed South Carolina's history."
Haley also referenced the "grace" shown by the nine families when they forgave the white gunman. She said their grace helped usher the state toward this long overdue decision. The assassinations at Emanuel AME, followed by forgiveness from the grieving families, were similarly cited by several South Carolina lawmakers as their reason for voting to remove the flag. Black Deaths Matter. That's the painful and dangerous narrative being developed out of South Carolina. Only Black Deaths Matter. Our nation is capable of doing the right thing – such as taking down the Confederate flag in the year 2015, a flag that represents the racist, immoral, unconstitutional defense of slavery and Jim Crow – but only when black deaths happen and are met by a response deemed acceptable. Ever since this flag was raised in 1961 to send the message that South Carolina would not honor equal protection under the law, tens of thousands of small and large protests have not been enough to move the power brokers to take it down.