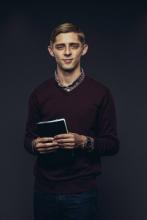 On Feb. 21, Time.com broke the news that my evangelical publisher, Destiny Image, dropped a book contract it had made with me almost a year ago because its buyers refused to sell my book due to my pro-LGBTQ activism.
Many conservative evangelicals have called my pro-LGBTQ stance "deplorable" and labeled me a false teacher. Other progressives have uplifted my story as one that demonstrates the discrimination that too many conservative Christians have become known for. In all of this coverage, both positive and negative, though, the true message of my situation has gotten lost.
Sure, my publisher dropped my book contract. Sure, evangelical booksellers seem to have blacklisted me and refuse to sell my evangelical book in evangelical bookstores — a too-close-to-home example of the evangelical discrimination against the LGBTQ community and our allies.
But at the heart of this controversy, there's a deeper problem: a fundamentally flawed belief that one cannot be a true Christian if one identifies as LGBTQ (or an ally of LGBTQ people).