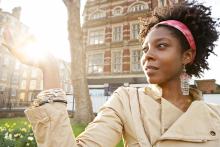 I was privileged to attend the ordination of a friend recently. For the first time, Michelle got to say the blessing over the bread, to break the bread and to give it to all of us with her hands.
Many tears, much joy.
As she handed me a small piece of the bigger loaf, I was reminded of how we, like the communion bread, are in the hands of others for so much of our lives. And how religion can be a thing of so much good or so much pain, depending upon whose hands it is in.
In the right hands, it's a pathway to the divine. In the wrong hands …
It's important that we always differentiate between religion and God. The two are distinct. God is always much bigger than any and all of our religions.